INTMD + ADV. TAI CHI QIGONG 1 program ONLINE
MWF for 6 weeks, starting Apr 24
Taught by Steven Sy, ONLINE using Zoom Platform
COURSE DETAILS:
MWF for 6 weeks, starting Apr 24, 2023 
Each session runs from 12:00pm - 12:55pm approx.  (EASTERN DAYLIGHT TIME -- [UTC-4 ] )
                                            9:00am - 9:55am approx. (PACIFIC DAYLIGHT TIME -- [UTC-7 ])
                                        6:00pm - 6:55pm approx. (EUROPEAN DAYLIGHT TIME -- [UTC+2 ])
PREREQUISITE:
2nd REFINE + Intermediate Tai Chi Qigong 1 program  
NOTE:  This course is NOT open to those who did not take the 2nd REFINE + Intermediate Tai Chi Qigong 1 program.
Students will only be allowed to enroll if they have completed the 2nd REFINE + Intermediate Tai Chi Qigong 1 program.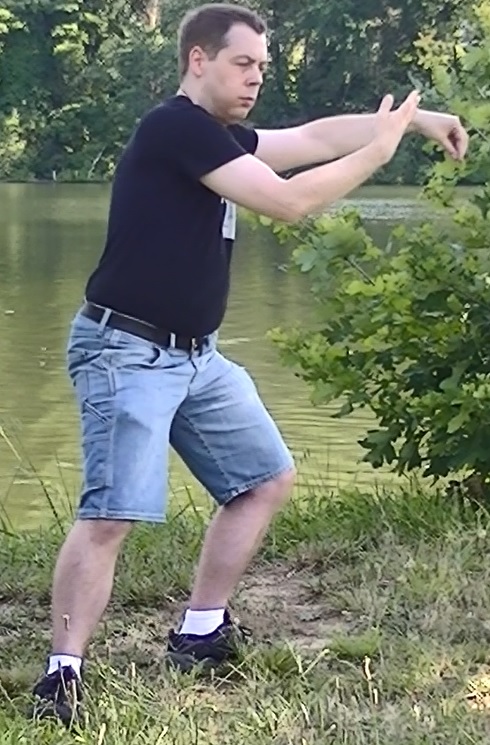 OVERVIEW 
The Goal of this Program is to be a fourth and final online tier course in Tai Chi Qigong 1, to follow the third-tier 2nd REFINEMENT + INTERMEDIATE course in Tai Chi 1 where the form was refined at a higher level from the REFINE Tai Chi 1 course, where the Beginner (Form Mechanics) Level was completed, and where initiation into the Intermediate (Awakening of Presence) Level of Tai Chi 1 commenced. 
This fourth and final-tier program INTERMEDIATE  + ADVANCED TAI CHI QIGONG 1 continues the previous course, beginning at an Intermediate-Mid Level of practice.  We begin reviewing the Yin-Yang Separation practice, proceed into Form Repair, and upon completion, start work on the Advanced (Subtle Secrets) Tier.   The course will "complete" at an Advanced-Low level of training; the final segments of the Advanced Tier can only be done LIVE, due to the necessary physical interaction with the instructor for that level of training.  Those final segments will be offered on-demand in a LIVE weekend workshop offered to students at this level.
This course also provides supportive theory from the Tai Chi classics. 
The Tai Chi Qigong 1 form [Alignment Form] is a 13-movement rooted Tai Chi form that contains many higher-level components that one can add, after the basic form is learned.  Great movement way to get grounded!
Primary focus is not to learn the Tai Chi 1 form as a beginner, nor is it to do a first or second refinement to the form.  This course presumes that students have already progressed into the Intermediate-Mid level of training, and already know many topics that extend beyond Form Mechanics.    A large part of the class will consist of personalized attention on how to integrate the intermediate level and advanced-low level material into the form, while still maintaining good form mechanics.
Approach taken (different from other instructors) is huge focus on how to do Tai Chi in a rooted way, strongly connected to the ground, and in a way that is consistent with the Tai Chi classics.
While the predominant focus is on improvement of physical and emotional health, a careful eye will be given to the relevant self-defense applications contained within the form.
Week 1:  Apr 24, 26, 28:        TAI CHI 1  (Review of Yin-Yang Separation, Form Repair)
Week 2:  May 1, 3, 5  :           TAI CHI 1  (Form Repair)
Week 3:  May 8, 10, 12:         TAI CHI 1  (Psoas Activation)
Week 4:  May 15, 17, 19:       TAI CHI 1  (Dantian Activation)
Week 5:  May 22, 24, 26:       TAI CHI 1  (Tendon & Bone Activation)
Week 6:  May 29, 31:            TAI CHI 1  (Feng Shui & Spiritual Connections, Overview of Adv. Mid & High Levels)
Recordings of the PRACTICE sets from the 2nd REFINE + Intermediate Tai Chi Qigong 1 program will be available for viewing up to July 15, in addition to the occasional supplementation when appropriate of additional recordings.   
Each class will have THEORY and PRACTICE.  Theory is not recorded.  PRACTICE is in the recorded PRACTICE set.
Most of the class time will be spent actually doing the Tai Chi practice, with periodic breaks to highlight key points or theory from the Tai Chi classics.
Notes:
We will allow a short time after each session for questions and answers.
Upon completion of this course, a follow-up one-weekend LIVE course in "Advanced Mid & High Tai Chi 1" is offered (

on-demand

), to be tentatively scheduled during the weekend of June 3.
This is NOT a certification course in Tai Chi 1.

  Those who wish to get certified will need additional training (in particular, the certification level LIVE weekend course of "Advanced Mid & High Tai Chi 1")  as well as meet additional requirements that are not self-contained in this program. 
After this online course, the next online courses in Tai Chi will focus on new Tai Chi forms, such as:  Tai Chi Staff, Tai Chi 2, and Tai Chi 3.  These are entirely separate Tai Chi forms that one can learn.  These forms assume a basic knowledge of Tai Chi 1, as such that is gained in (at minimum) the earlier Intro Tai Chi 1 course.
In total, I look forward to having you join the "INTMD + ADV Tai Chi Qigong 1 program ONLINE".
If anyone has any questions in advance of the class,
Steven may be contacted at his email address:    steven [at] spiritualtao [dot] com.