INTRO TAI CHI QIGONG 1 program ONLINE
MWF for 6 weeks, starting Nov 28
Taught by Steven Sy, ONLINE using Zoom Platform
COURSE DETAILS:
MWF for 6 weeks, starting Nov 28 
Each session runs from 12:00pm - 1:00pm approx.  (EASTERN STANDARD TIME -- [UTC-5 ] )
                                            9:00am - 10:00am approx. (PACIFIC STANDARD TIME -- [UTC-8 ])
                                        6:00pm - 7:00pm approx. (EUROPEAN STANDARD TIME [UTC+1 ])
PREREQUISITE:
NO PREREQUISITES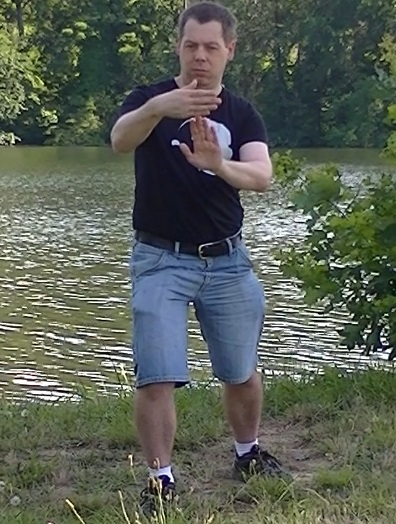 OVERVIEW 
The Goal of this Program is to provide a comprehensive introduction to the Tai Chi Qigong 1 form, along with supportive theory from the Tai Chi classics.  The Tai Chi Qigong 1 form [Alignment Form] is a 13-movement rooted Tai Chi form that contains many higher-level components that one can add, after the basic form is learned.  Great movement way to get grounded!
Primary focus is to learn the Tai Chi Qigong 1 form from first principles, and at the end of the course, to be able to successfully do the whole form beginning to end, at least at a beginner level. 
Approach taken (different from other instructors) is huge focus on how to do Tai Chi in a rooted way, strongly connected to the ground, and in a way that is consistent with the Tai Chi classics.
While the predominant focus is on improvement of physical and emotional health, a careful eye will be given to the relevant self-defense applications contained within the form.
Week 1:  Nov 28, 30, Dec 2:   FOUNDATIONS of Tai Chi  (Joint Warmups, Bow Walking, Tai Chi Theory)
Week 2:  Dec 5, 7, 9:                TAI CHI 1  (Review, Opening Elements, Ward-off )
Week 3:  Dec 12, 14, 16:         TAI CHI 1  (Review, Grasp the Sparrow's Tail, Single Whip 1st half)
Week 4:  Dec 19, 21, 23:         TAI CHI 1  (Review, Single Whip 2nd half, Complete 1st half of form)
BREAK WEEK  (Christmas & New Year's)
Week 5:  Jan 2, 4, 6:                 TAI CHI 1  (Review, CW Direction, Complete 2nd half of form)
Week 6:  Jan 9, 11, 13:            TAI CHI 1  (Review, Cross Hands, Complete Entire Form)
A recording of each PRACTICE set for the week will be available after the Friday class (i.e. Dec 2, 9, 16, etc.) for viewing up to Feb 28.  
Each class will have THEORY and PRACTICE.  Theory is not recorded.  PRACTICE is in the recorded PRACTICE set.
Most of the class time will be spent actually doing the Tai Chi practice, with periodic breaks to highlight key points or theory from the Tai Chi classics.
Notes:
IF enrollment in THIS course is sufficient, a follow-up course in "REFINE Tai Chi 1" will follow after this course, along with courses in Tai Chi 2 and 3.   
REFINE Tai Chi 1 contains weeks of personalized correction of the form, along with many intermediate and higher-level skills not covered in THIS course.
Tai Chi 2 and 3 are totally separate Tai Chi forms that one can learn after developing some competency in this Tai Chi 1 form.
We will allow a short time after each session for questions and answers.
This is NOT a certification course.

  Those who wish to get certified will need additional training as well as meet additional requirements that are not self-contained in this program.
That said, in lieu of certification, I'm happy to evaluate your form at the end (if you are curious) and give you a "digital rating certificate", as a measure of personal achievement and as a self-measure of your own development.   

Cost:

  $20
In total, I look forward to having you join the "INTRO Tai Chi Qigong 1 program ONLINE".
If anyone has any questions in advance of the class,
Steven may be contacted at his email address:    steven [at] spiritualtao [dot] com.